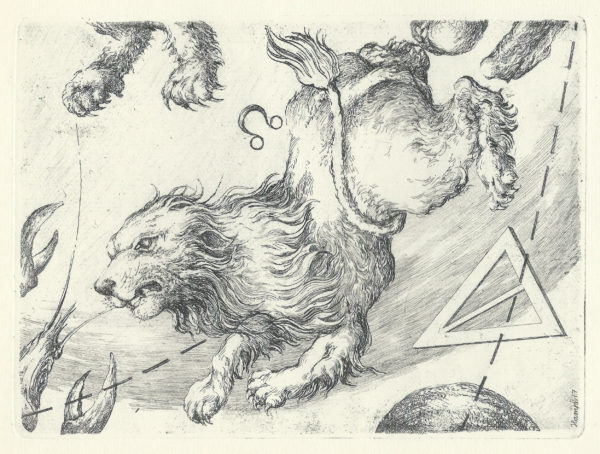 This is a transformational month of polarities: endings and beginnings, chaos and spirituality, individuality and humanity, or people vs rulers. The Lunar Eclipse Monday, 7th falls at the midpoint of Leo/Aquarius. Fixed sign midpoints such as these, are signature of power-plays.  The Aquarian Moon opposing the Leo Sun connect to outer planets, pulling their potent energies into the eclipse mix, calling us to greater adventures in living large.  The mundane and the mystical are holding hands, moving bodies through daily habits with heart and spirit.  If you feel confused and overwhelmed, but don't know why, just accept, and go take a nap.  With our escalated energy-grid, it is more important than ever to care for the body.  Pay attention to emotional needs as well as physical.
As though walking through Eclipse portals wasn't enough…. Mercury is now in slow motion to come to its Retrograde Station next Saturday, 12th.  Back up what's important.  Jettison the un-necessary.  Not only the technology, but the over-burdened race through life.  This is a time to re-evaluate.  Keep what is of essence, and let whatever passes out of your life to go as gracefully as you can.  Shed whatever blocks the heart's GPS. The political drama being played out is a farce.  But it clearly demonstrates what must change.  It is taking place on a world stage, AND it is also taking place within.  Don't get confused by the form.  Look at the energy!  Mercury's Retrograde in Virgo can help, as Virgo's Mercury-ruled energy wants to take things apart and critique what is not beautiful or useful. Virgo's mandate is to improve and bring order.  We need all the help we can access these days, so use your Virgo tools of discernment to change old, stuck ideas, as well as daily expression.  If ever there was a time for kinder conversation, it's now!
Listen to what is unspoken, as well as spoken.  Remember that under this Eclipse portal, whatever we think, hope for, take action, or wish upon has a 10,000 watt potential to amplify.  The veil is thin.  The disruption enormous, but our power to connect to source is incredibly potent, especially through meditation and prayer.  Ask for what you need.  Care for those you love.  Ask protection for our planet. Enter this Eclipse portal with sacred intention.
SCHEDULE
August 14, 7PM: If you wish greater understanding of this transformational time, I am sharing information about the great American Eclipse of August 21.  Find out how it may affect you, how you can prepare, what it may mean for America, and its leaders, particularly Mr. Trump.  We are all taking flight in unknown ways.
RSVP ~info@ldyoga.com  $18.00   Laughing Dog Yoga: 159 Linden st., Wellesley.  If you wish to know which areas of your life are most affected by the Eclipse, send NOW- your birth data of date/time/city to samcatcam@gmail.com
August 9th, Wed night classes at 5:15, level I-II, and 7 P.M.~level II-III- Laughing Dog, Yoga, Wellesley. These will be Full Moon, Yang-filled classes with heart-opening poses… time to breathe into sacred intention. The following week, 8/16, both classes will be taught by the wonderful Elgar Pichler
August 12, Sat. 8:30 AM~ Level II-III – Blue Lotus Healing Yoga, Needham.  Come enjoy the last classes at Blue Lotus. We seek a new Saturday home come September.
Your Practice this Week: Fuse intention into the body, listen to alchemical information rising out of your time on the mat. With the potency of this Full Moon Eclipse, you want to work the intense energies out of the body so it can stay calm and centered. Do Sun Salutations to favorite music, until sweat coats your beautiful muscles, then sit in meditation, opening the heart wider as you thank your body for its support. Stay tuned and aware of who you wish to be, and how you wish to do it.
Your Birthday this Week: Clearly you are in transformational mode as you turn toward a year of polarities, and relationship changes, within and without. If you are wise, you will give yourself more time for listening to inner direction, allowing thought before response. You will see yourself jettisoning old ways of being that have held you back. At your birthday next year, you may be unrecognizable from the person looking back from the mirror now. Bon Voyage- to a great adventure!
Astrological consultation:  For August birthdays it is particularly timely to look at your life from an objective, non-judgmental point of view. This month is a preparation, a time of soul-questing to discover how and where the BIG August eclipses affect your life. How do you wish to use your inherent genius, and compassionate awareness? How to understand the healing in front of you, and accept present difficulties in order to plan an abundant future.     Email  samcatcam@gmail.com