Opening Energies of January '22
How delicious to begin a month, never mind a year under the dark birth of a New Moon. The Capricorn lunation on the 2nd invites us to codify, tabulate, organize, restructure, and goal-set 2022. Capricorn, symbolically represented by a Mountain Goat, says 'put your boots on,' and begin the discipline of climbing up and beyond where you were. It's a perfect time to re-write your goals and ambitions, especially as Venus is now retrograde, swimming back into her 'underworld' until the 29th, moving emotion inward and backward, asking for re-assessment of what has meaning and value in our lives. When she is reborn as 'the warrior queen' in her morning star robes on the 29th, we shall have gained insights on our seductive talents, and obsessions, as she is embraced by Pluto who demands we become deep regenerative divers in our resolutions to uncover what holds us back from loving more deeply, being passionate, especially about ourselves, and/or how we might re-calibrate difficult relationships, and asking if finances are in good shape? If not, then now is a great time to re-evaluate and regenerate transformative habits.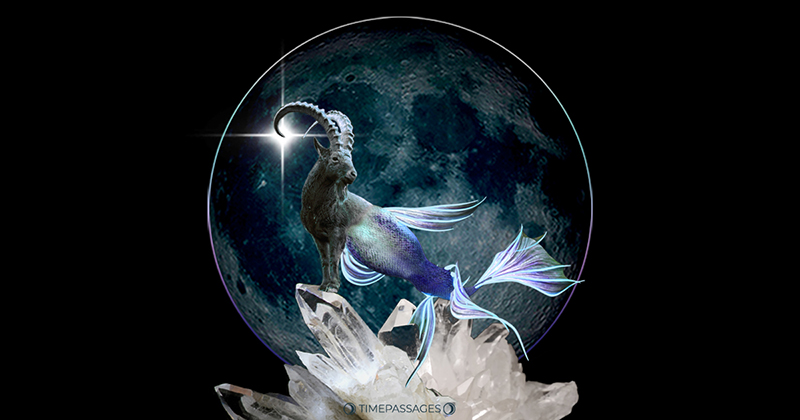 This earthy New Moon carries a ponderous, slower feel to it, offering quiet time to grow consciously while connecting emotions to sustain new ideas.  With Venus barely moving, and Mercury slowing down in its 'shadow phase' before it turns retrograde on the 14, both planets are symbolically in review and inner exploration mode. They ask:  What needs improvement? Healing? Are we responding to too many 'shoulds'? Are we trying to be perfect?  Why? The process this week moves us sideways in contemplation,  not forward leaping.
On the other side of the coin, remember that January, named Janus by the Romans, was a two-headed god, with one face turned to the past, and the other in future vision.  This January, perhaps due to three planets in slower, retro-preparation, and motion provides a speed break, especially after the dynamic of shifts and changes in Nov. and Dec. of '21.  One of the month's 'forward-looking highlights' is Uranus, Sky god of 'out of the box thinking,' chaos, and brotherhood, stopping to finally move forward at the Full Moon in Cancer on the 17, -18th.  Expect big emotional events, where shifts and surprises can pack a wallop.  On the 19th, The Sun moves into Aquarius, which is the sign Uranus rules.  Is it sufficient to say, "Get your ducks in order now for rebellion's in the air!"  Rest, re-organize, and restore. Plan and visualize possibilities.  Expand ideas around goals, but do not push to implement yet.
In '22 Uranus is in a more powerful position than in '21. For the most part, until the fall, he is not held back by Saturn and can therefore serve up more chaos, change, and unexpected hard right turns, along with ongoing earth disruptions.  Uranus passing through Taurus for the next six years, reveals not only ideas and laws to save the ecosystem, but Taurus is involved with 'money-honey.' Banking, bitcoin, changes in currency are expected. These issues will also be front and center with Pluto's return to its natal position in America's birth chart.  (More on this next week.)  Both these oversized planetary energies require we re-think and grow greater awareness of choices.  Consider all your options, and don't stay hog-tied to old ways of doing things.  Uranus is a wonderful force for supporting greater use of intuition, and the ability to expand a POV.
Yet Another powerful theme of feeling and action for much of this year is Jupiter's entry into Pisces, where the lord of the seas expresses potently, having been the ancient ruler of Pisces.  This large, rolly-polly master 'muchness and more,' expands watery Piscean energies of: spirit, creativity, beauty, unconditional love, confusion, loss addiction, and rain!  This will become overwhelming in April when Jupiter joins Neptune~ where if we are fortunate, we sink into the divine and disintegrate~ And/or we float away never to be seen.  With electrical Uranus surging up, and watery Jupiter/Neptune pulling us down and deep, you see the months ahead offer gifts of unconditional love, creativity, compassion, instability, illusion, lies, and disintegration.  Meditation, dance, song, intuition, faith, and dreams needed!
2022 requires we hold on to faith, nurture Ma Earth, become part of a network of light-bearers, focus on choices where our light shines brightly, anchor ourselves in daily disciplines that invite the birth of dreams. I'm out there with you, with gratitude you've grabbed my hand.
May this be a time of many blessings for you, and those you love. May your light fill our world with compassion and joy. From your full and generous heart, be a conduit for peace and healing so that every time you look at someone, each time you think of someone, they grow and feel loved. Off we go, changing the world one breath, one step, one song, one glance, one embrace, one dance at a time. My heart to yours~ Samantha
********

YOUR PRACTICE:  Entering this new year,  it's vitally important to pay attention to Self-Care, by activating EI/Emotional Intelligence.  The relationship with Self is how all others form and conspire. Come get grounded, laugh and chew some tasty fat Saturday mornings, contact: Samantha-samcatcam@gmail.com for zoom invitation.
 BIRTHDAYS THIS WEEK:  With Venus retrograde, this is the birthday to renew, or discard old relationships, especially the one with Self.  You are deep-diving with Pluto as your transformational guide through all Venus issues in order to feel ever more authentic to the person you wish to be.  No small thing!  No easy task!  But you are up to it!  You have increased your flexibility, allowing others more freedom.  You have grown patience so you now see 'the third time's the charm.' And you are more comfortable with change!  Olé!
YOUTUBE & WEBSITE VIDEOS of Yoga & Pilates classes for Every Body. All levels https://youtu.be/t5BqZ2A7RbQ  Thank you for posting a comment!    https://dailybreathjournal.com/yoga/yoga-pilates-videos/Whatever your Practice, make it yours, and have some fun!
 I'm happy to guide -but listen to your body & make breath boss!

ASTROLOGICAL CONSULTATION:
Please let me know if I can help with sorrow, struggles or decisions to be faced. I am a psychological, soul-centered Astrologer, working practically and metaphysically. https://dailybreathjournal.com/astro/astrological-consultations/ contact: Samantha-samcatcam@gmail.com