In Western Astrology, this year begins flowing under the tender, nurturing, watery flow of a Full Moon in Cancer, on the 6th. Cancer is the energy of a good mother, deep emotion, and inner resources. In Vedic Astrology, this lunation is called Punavarvasu, meaning "return of the light." The Vedic goddess Aditi resides in Punarvas, meaning 'boundless,' representing infinite possibility, especially creative possibility. What wonderful energy to dream under, and visualize adventures for this coming time! These will be inner as well as outer adventures as one of the callings of 2023 is to grow more aware of our emotional body, and open wider to our passions. This is a Venus year in many ways. (If you wish to know specific times when Venusian joy- juice flows, then attend my Astrological Overview, for Non-Astrologers, this Sunday!)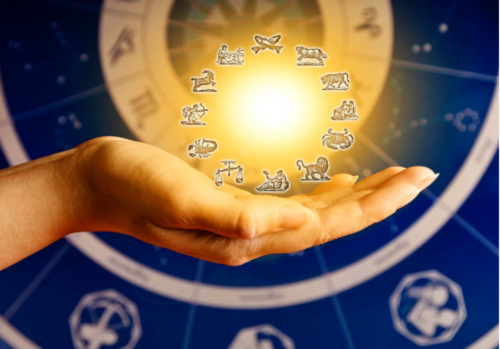 Before we can leap forward to harvest the fruits of our labor, or begin new projects, it's best to hit the pause button. I remind you that we are in two very personal retrogrades. One is Mars, the warrior, moving inward through the mental energy of Gemini where he will not release us to forward movement until Jan. 12. Until then, the best use of physical energy is to rehearse, putting talents into re-do practice until the unknown can feel familiar. The other 'pause button' is that Mercury, ruler of Gemini, and Virgo, is retrograde until Jan. 18. If the holidays were particularly chaotic this year with storms, illness, cancellations and frustrations then this 'slower, reset time' is invaluable for getting your feet under you before leaping forward. Use the gentle fluid energies embodied in the Cancer/Capricorn Full Moon to listen to your EI/Emotional Intelligence, and ask; 'How can I change? What needs more loving attention? What gift might I offer the world this year?
The face-off of Cancer/Capricorn includes that of mother VS father, home VS status, and gut feelings VS staunch belief. Capricorn energies lie within the 10th house, where our power in the world is expressed. Cancer lies hidden in opposition, in the 4th house. This is an anchoring place of family, home, taproot, and childhood. With these strong polarities guiding this time, pay greater attention to old traumas, hidden feelings, and/or pushing too hard to climb the next mountain. If we stop and listen to our Wisdom Body we may discover a better way to heal old family traumas or toxic patterns we unconsciously use to keep the world at bay.
Full Moon light often reveals a shadow side of the signs the Sun and Moon inhabit, asking us to reveal and reconcile what lies hidden so that we may heal. Capricorn's shadow often blames others, abdicates responsibility, and falls into victimhood. The shadow side of Cancer is an inability to express feeling, building a 'crab shell', sabotaging emotions. This can manifest as martyrdom. In many ways, this first Full Moon of 2023 is asking us to manifest our true Self, to listen to what guides us from essence, rather than conformity or habit. What a perfect 'ambition' for this present 'pause-time'.
Other lovely energetic-helping hands to support our break from old patterns and expand through inner change are:
From the 5-8th, the Sun, then Mercury trine Uranus. As you know this great sky god of higher thought and vibration opens and disrupts whatever he touches. When he hits the Sun, it's an opportunity to shift ego-consciousness, and possibly grow more soulful. When Uranus hits Mercury, open to the better-bigger ideas. Write down everything that zooms in for it will zoom out again just as quickly when Uranus is involved.
Venus has moved out from her embrace of Pluto, but not before she grew a greater sense of transformative love and appreciation. This has better prepared her to dance with Mars, Jan. 9 & 10. This partnering is one of great passion and creativity, and I think it may help prepare her to jump and jive when she meets up with Uranus, Jan 14. This is followed by the Sun embracing Pluto on the 18th, as Mercury slowly turns toward forward action.
This is a whole lot of heavy winds filling our sails. The question is, are we better off hauling in the sails, holding a steady ship, and listening to the sea below, or heading out? What a perfect time to practice mindfulness so we correctly intuit whether to join Columbus in 149 or wait for the great Portuguese, Fernao de Magalhães, known as Magellan. to circle the world of 1591. When Mars stations direct, on the 12th, from its long backward passage that began Oct. 30th, you will begin to feel the wind fill your sails for the next adventure. During his inward passage in Gemini, I hope you have used his power to revive important memory, beliefs, and skills. As he continues through this mental sign until March 25, ramp up new skills, and techniques, revitalize your passion for something, or someone, and take your hopefully newfound uncovering of old grievances, misperceptions, and fear into the open for understanding and forgiveness.
As this potent Full Moon blossoms January 6, on Epiphany, or Three Kings Day, which is a Christian commemoration, historically considered more important than Christmas, as it is a day of spirit made manifest to descend on earth. (Epiphany is from the Greek word meaning 'appearance' or 'manifest.')
There are so many more wonderful, tangled, exclamatory, unique energies coming up in this New Year I hope you will join me this Sunday, 8th, at 3 pm ET, or in your local time zone for an overview of our new world.  Recordings are available, with notes if you cannot join.  More information lies below.
***************************
Check out my youtube channel to take Yoga, Yoga/Dance, or pilates classes any time you feel like it. ttps://www.youtube.com/channel/UC9A14kJKdAmsfU7qg0-HRHQ
COSMIC PLANNING~2023 In the palm of your hand
Time once again to plan the magic of the incoming year.
Sunday January 8, 3-4:30 pm ET to savor your
2023 Astrological Forecast for NON-Astrologers, when we dive into the meaning within energy shifts, as well as their critical timing.
We explore gifts & goblins, and opportunities to design an auspicious year.
* The When/Why/How to make thoughtful choices are offered with opportune dates to evaluate when 'to hold them and when to fold 'em.
* Layered information is clearly presented so you can synthesize and deepen plans to enter challenges with wisdom, and work sagely with difficult emotional themes.
* You grow greater consciousness to make better choices from an objective viewpoint. This offers you wisdom moments for inner work, when healing and retreat are better served.
Fee is $25 to attend via zoom, or recording, plus handouts of important dates.
If you cannot attend, an MP3 recording, with files, will be sent. To reserve your place contact samantha cameron at samcatcam@gmail.com You can pay via venmo or PayPal at- samcatcam. And at dailybreath
YOUR PRACTICE THIS WEEK: Despite the yang energies embedded in all Full Moons, at this time we are better served slowing down and listening to the emotional body~ a more yin approach. With Mars still Retrograde in Gemini, it is best we listen to what the body needs before leaping forward. Build inner resilience through whatever practices you choose, discovering new ones so you don't feel stale. Remember to howl your wishes into the beacon light of the Moon, then visualize them coming true…..they already are!
BIRTHDAYS THIS WEEK: This is a year to pay greater attention to your intuition, your gut responses. Do your best to become more aware of stalling before setting sail as there are new options you need to consider and incorporate. It's a creative and passionate year if you invite that joy to the table, and you will certainly grow happiness if you take a risk and open to something new VS doing it the same old way. Grow your 'experiment/non-judgment muscles' and you will divinely dance onward!