The luminous sheen to the night sky sheds energy into bright beginnings, fresh perspectives., and complex illusions.  The Full Moon on the 23rd—24th, in first degrees of Aquarius, offers an opportunity of fiery beauty to integrate heart/Leo and head/Aquarius.  To up its power are three complex 'planetary quincunxes' connections galvanizing not only the oppositional forces in the Sun-Moon face-off but refining and integrating dissimilar elements and polarities.  They are a prompt for the world to adapt, refine, and adjust old habits and attitudes. It is yet another potent moment in the revolution in consciousness, asking we to move from the materialism and domination of ME to the interconnection and equality of all.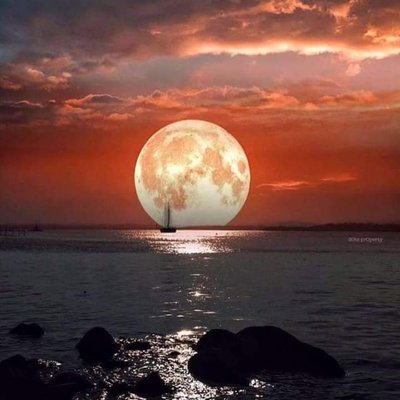 This is also the 'prelude-Moon' announcing the 'Astrological Blue Moon of Aug. 22. Re-read last week's information of this unusual event.   Now we are under the 'first' Aquarian Full Moon, an external and internal lamp of awakening and initiation.  It asks we develop and refine the complexities of combining liberty, science, equality with creativity, heart, and authenticity.  Full Moons are times of emotional release, greater understanding, and cleansing.  The Sun, at 1 degree Leo and Moon at 1-2 degrees of Aquarius are opening chapters, igniting enthusiasm and passion to begin- again.   The Aquarian demand for greater freedom, igniting Leo's personal passion makes this a power surge of possibility for the world to move forward in greater connection and common desires.  Despite Leo's personal heart being activated, this is not about ME, rather it is about ME supporting US. 
Another 'US energy' is the opposition of Venus, along with Mars, to Jupiter.  Venus and Jupiter are in opening degrees of Virgo/Pisces, which like the Full Moon opens doors in a new chapter.  Mars, in closing degrees of Leo, pushes the passion and heart-heated desires in support of growing more generous with our abundance, love, and appreciation. Be aware of Jupiter's shadow side making too many demands, and over-expecting.  Another layer to the Full Moon depth charge is the Moon nestling into Pluto, overlord of death, sex, and taxes.  This embrace asks we assess true needs, VS wants.  It pushes us into clearing out emotional junk, and old psychological debris.  Pluto is Retrograde in Capricorn, stretching to the Aquarian Moon, and creating 'gut bombs' of emotional and mental realization about power, where we should control, and where we shouldn't.  Pluto always takes us deeper into emotional complexities, exposing hidden agendas in hopes of regenerating us by their discovery.  With its quincunx to Mars, god of war, we have more muscle to do battle in refining and adjusting personal commitments toward far-reaching transformation.
More help is received from Old Man Saturn, also Retrograde, who was the ancient ruler of Aquarius, and is now moving slowly through his old home turf in support this golden-awakening re-boot.  He reaches out to the Moon from the other side of Pluto's embrace,  with balanced constructs of due diligence, and keeping it real.  He offers a toolbox of consistency to cool the drama and apply muscle in support of desire and passion.  The Old man of Time requires we practice practical habits to make real our dreams.  It is such a great moment to be an inspired dreamer, to support hopes with joy, to create with passion. The Leo/Aquarius Full Moon is a time to turn individual choices toward global service. It is a visually 'golden opportunity to follow the 'golden rule.' 
ASTROLOGICAL CONSULTATION: What do you need, and how can you create it? What keeps you from moving forward? What practical steps and timing elude you? Need support in discover ing golden nugget within that you can seed in the world? So many questions, so much to chew and discover during an Astrological Consultation. Email samcatcam@gmail to book an appointment with Samantha Cameron, and Go here for more information, https://dailybreathjournal.com/astro/astrology/
CREATING RITUAL: This is an opportune moment to connect mundane to magical. Let the ritual come to you, let it create itself while you listen and observe. If nothing else, it's a great practice in opening to possibility, and learning to be more observational, rather than directorial. Do take time under the moonlight to create your ritual, and create it for, and with others for a true Aquarian/Leo vibe.
YOUR PRACTICE:  Let's 'rug up ' (Australian for dressing up) for a fascinating Full Moon.  Its Aquarian vibe calls us to be iconoclastic, as well as 'one with our tribe.'  It asks we connect and share, opening windows and doors to fresh air and fresh ideas.  If your Moon is a heart-healing red from smoke-blown Western fires, take time to kiss the earth in healing as you dance upon the mat  Let's be passionately Yang, with a soupçon of power-poses, followed by laughter.
BIRTHDAY CELEBRATIONS: You have a total wow of a birthday, especially if you love transforming!  And who doesn't love that deep, regenerative effort?  Your emotional body is a bit on overload, and possibly making defensive demands in order to feel safe. Ramp up your 'power-GPS' so you either don't give it away or abuse it in dealing with others.  This is a high learning curve to your year, along with growing more creative.  Stand back and re-consider if a new direction calls you.  Take time in nature to listen to inner voices in order to use the 'brazen powers of this week to re-connect to a Self that wants to come home, a voice that carries your authentic flavors.  The entire world shall rejoice! Become a more alive Captain of your ship.  Set sail with heart confidence for new, uncharted territory!  Bon Voyage, oh captain, my captain!