Astrological Consultations
"As above so below, as within, so without."
Why have an Astrological Consultation?
Astrology is a symbolic language that connects us to the planets, therefore energies in the universe.  It is a wonderful mirror reflecting ourselves back to us, letting us stand outside and see self more objectively.  This is particularly hard to do when we are in conflict. When we are emotional, too close, too entrapped by the agenda of what we want to have happen, a consultation sets emotional chaos in order.  It allows the vision of correct order,   different possibilities, and the ability to see other patterns from which to choose.
An Astrological consultation offers tools to re-connect to life from a bigger picture, with greater understanding.  It contains knowledge of how to fit into a moment of time.  The knowledge of cycles brings awareness to beginnings and endings, and the reassurance of timing.  Often, a consultation opens doors to greater possibility.  What is your true role within the 'grand scheme of the cosmos?'
There is an enormous amount of common sense and practicality that comes from 'reading the stars.'  It assuages fear, contributes to fulfillment, and leads to self-understanding.
Available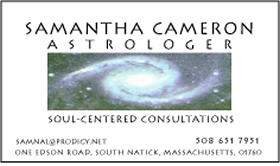 Natal Charts - Psychologically exploring you; what makes you tick, what holds you back, what are your gifts, how are you using them, where and when do you want change?
Solar Returns - exploring the year ahead
Compatibility Charts – great for deeper knowledge of two people working, or not, together. Must have permission of both parties in order to do the chart.
Infant/Baby Chart –  Delineates the gifts and issues the child has come in to work on.
Consultations are recorded for CDs at your request.
Contact Samantha for more information.